We create high resolution Google Street View Tours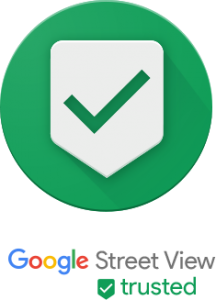 OWL VR is a trusted Google Street View photographer. If you are looking to hire a google trusted photographer, we can shoot and upload 360 degree virtual t
ours for Google Maps.
Market your premises to potential customers by adding your location to Google Street View. If you would like to improve or update the Street View of your property or business, or if you haven't been visited by the Google Street View car and would like to be added to the map please get in touch. Street Views by OWL VR have already achieved over 4.7 million views and this number grows every day.
Get a FAST no obligation quote by filling out the online form.
or call us on  07966 163847
We create Virtual Tours
OWL VR can visit your location and take hundreds of photographs that we stitch together to make 360 degree panoramas. We then use dedicated professional systems to link these together to create a high resolution virtual tour. This 360˚ virtual tour is then linked to google maps, which you can embed into your website.
What is Street View?
Street View is a series of 360˚ photographs attached to Google Maps. They can be inside or outside your premises. Creating your own indoor Street View enhances your business listing and means that people searching for your business using Google Maps can drag 'pegman' onto the map and enter your location as if they were there in person. Listings on Google sometimes say 'Look Inside' and Google refers to the panoramas we create as 'Indoor Street View'.  As a Street View trusted photographer we come to your premises, take photographs and stitch them together, creating a virtual tour. Visitors can see your photos on Google Maps, and we give you a code so that you can embed the tour on your website.
What is a Google Trusted Photographer?
All approved Google 360 photographers must meet very high standards of image quality, connectivity and appropriateness. Photographers apply to Google for trusted status once they have a body of work to be verified. OWL VR is proud to have gained trusted photographer status in 2018.
What Makes OWL VR Different?
We are a Google Trusted Photographer, meaning that you can be confident in our results and the quality of our tours
We have a best price promise and currently don't charge VAT
Using special techniques there is no tripod visible. Unlike most other tour companies we remove the tripod so you can look down.
We can link your tour to custom navigation which you then embed on your website highlighting special areas of interest such as premium facilities, or interesting spaces which you want your visitors to see.
Choose how many photos you have in a space, allowing you to compress the number of clicks users need to tour a property.
We can add custom hotspots and links to video and other content. CALL NOW for more information.
Google Trusted Photographer FAQs
How Much Does It Cost?
A smaller venue is quicker to photograph and will require less work than a larger location and pricing reflects this. Prices start at £199. We offer a fully inclusive service which covers a visit by our photographer, photo panorama stitching, digital tripod removal and upload to Google Maps. We also link together panoramas for you to create a 'tour' where visitors can click between locations.
Can I Share The Cost With My Neighbours?
If you can persuade nearby businesses to have a tour shot at the same time as you, we offer special rates. Tours work best when a whole street, or area is photographed and processed by the same photographer as we can link up the tours and viewers can click to walk between them. Having an up to date Street View is good for all businesses in the area.
Can I Use Indoor Street View On My Own Website?
Yes, absolutely. Your tour is hosted by Google and can be embedded into your own website.
Google Streetview Photography FAQs
How Long Did Photography Take?
This venue was captured in a morning. The client prepared the spaces ready for us and we timed our visit to be the least disruptive to business.
How Do Levels Work?
We link together the images to create a tour that navigates the same way that you would in real life. Select the example here and choose to go into the theatre, or down into the events space. We also captured offices and other areas in the venue on different floors.
Where Is This Tour Used?
This tour is used on the clients website showing different areas around the building. The link each page on their site to a specific point in the tour, but viewers can navigate around where they choose.